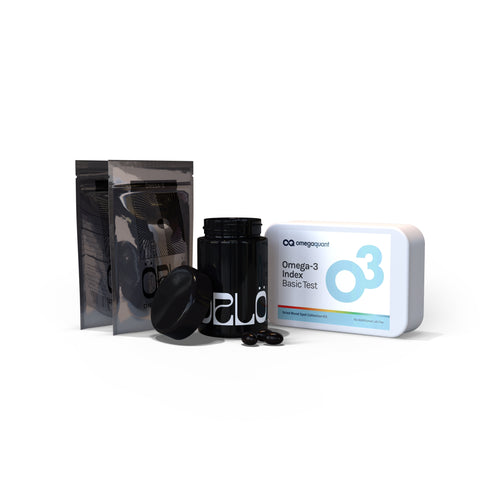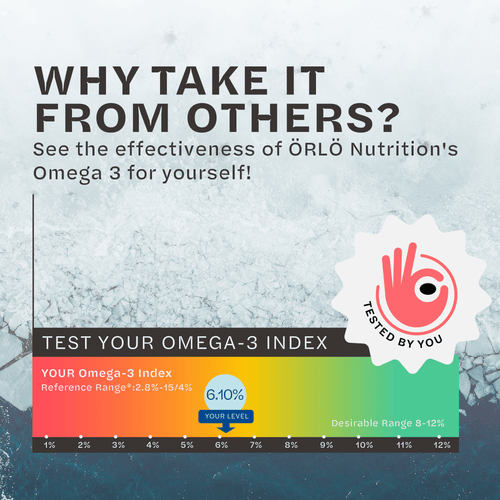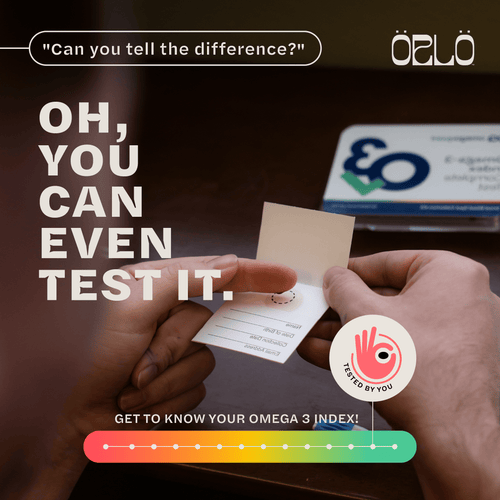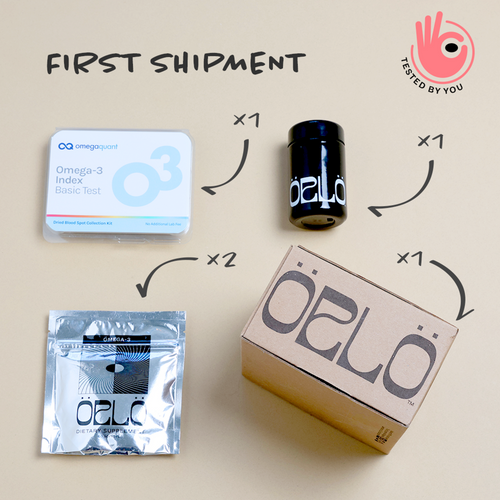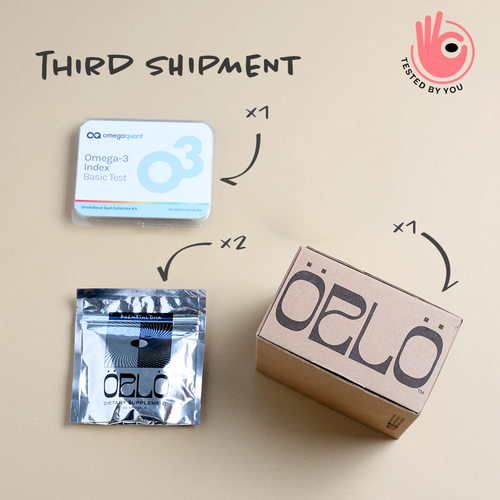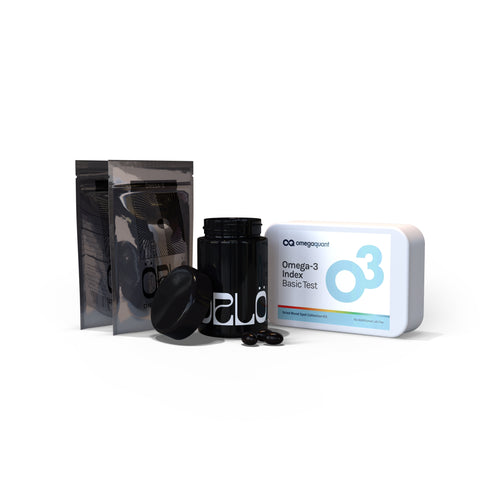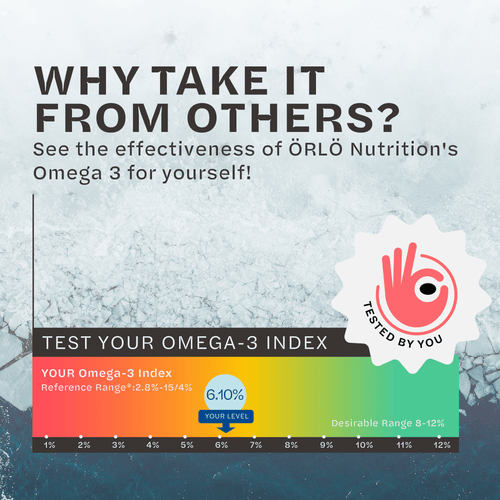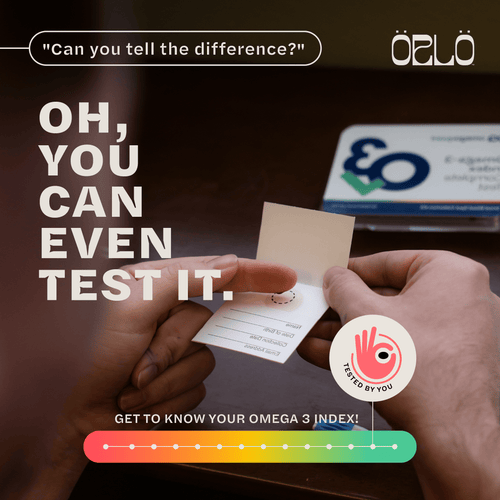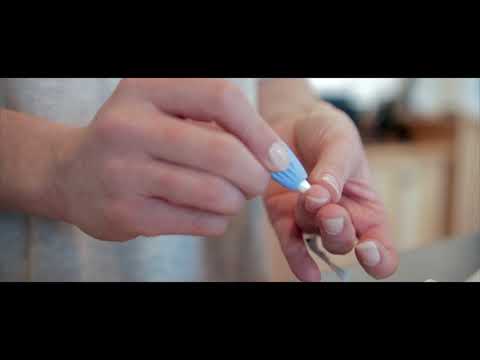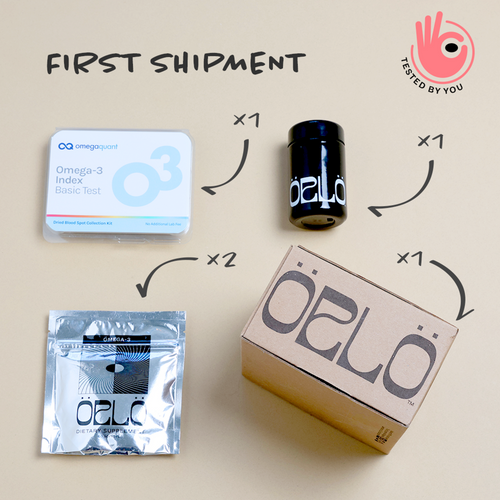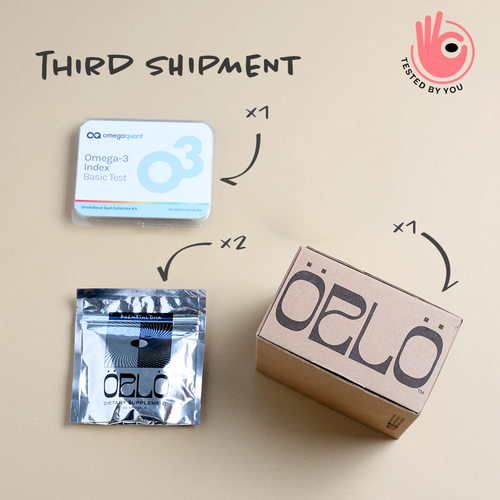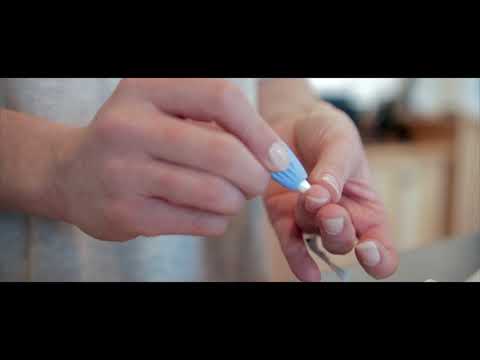 More about the TBY program
How does the "Tested by you" program work?

Once you buy the "Tested by You" limited edition subscription pack you receive:

Shipment 1

A two-month supply of ÖRLÖ Active Omega-3, DHA or Prenatal
DHA
One OmegaQuant Test Kit (T0 test) - so you can find out
your Omega-3 levels pre-ÖRLÖ

Shipment 2

A two-month supply of ÖRLÖ Active Omega-3, DHA or Prenatal
DHA

Shipment 3

A two-month supply of ÖRLÖ Active Omega-3, DHA or Prenatal
DHA
Another OmegaQuant test kit (T1 test) to find out how your Omega-3 index changed after 4 months of
daily use

 
Are you getting enough of the essential omega-3s EPA + DHA?

Most Americans, and especially vegans and vegetarians don't get enough of the essential omega-3s EPA and DHA in their diets.

While an ideal omega-3 index is 8% - 12%, most fall far below that number at 3% - 4%.
What's an "Omega-3 index"?

The Omega-3 Index test surpasses regular blood tests by revealing true absorption into your cells, not just in your bloodstream. It offers a more precise and actionable understanding of your health.
The 'does this even work?' days, are over!
ORLO's groundbreaking plan shows firsthand how your health improves when taking our bioactive Ömega-3s.
Don't believe us
So many people doubt their supplements work. That's why we at ORLO Nutrition are so proud to present "Tested by You", a first of a kind program, an opportunity to see firsthand how YOUR HEALTH improves when taking ORLO's Active Omega-3s.
For optimum results we have tailored a six month program that gives you 2 measurement points. Your benchmark at start, and one after 4 months.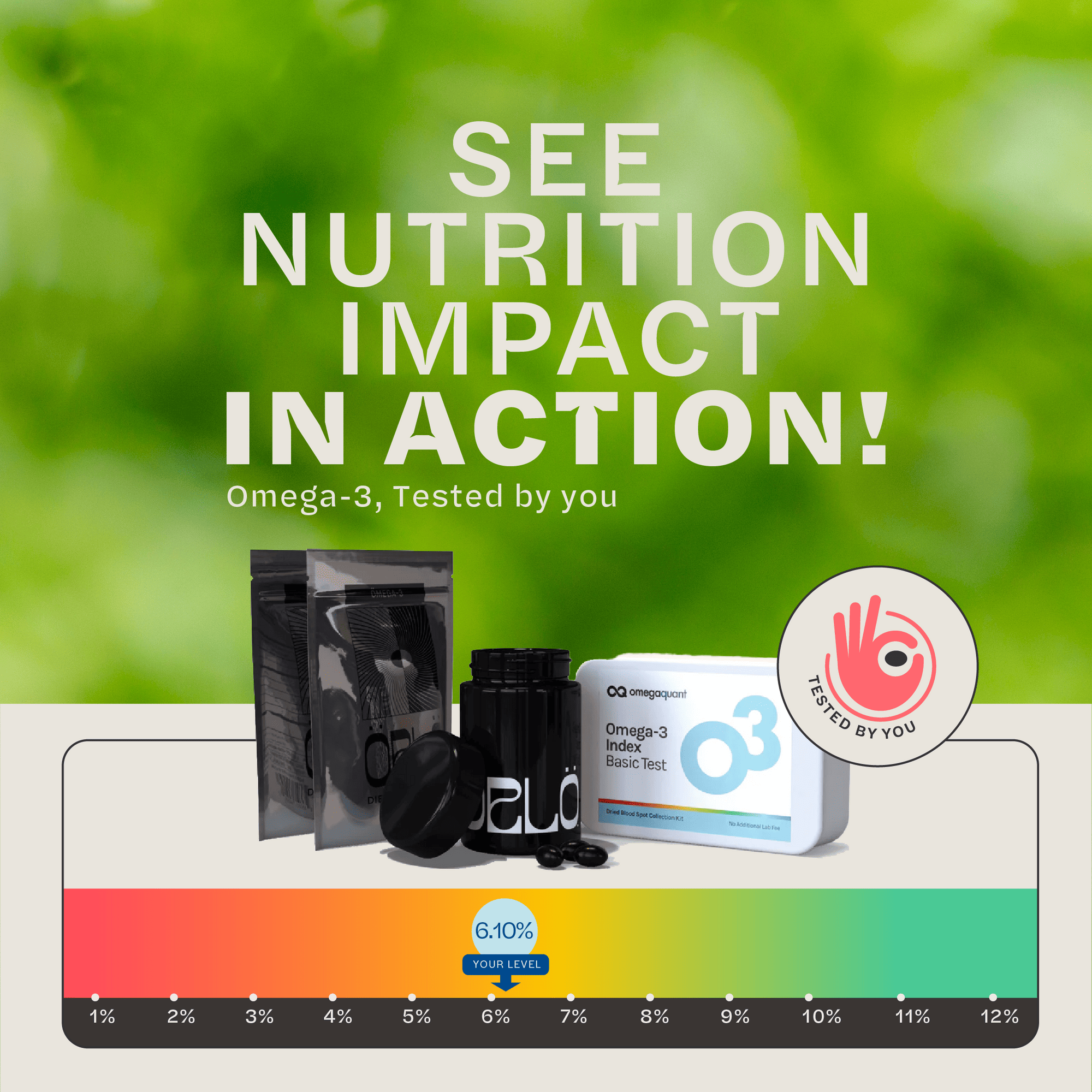 The highest efficacy you can find
Made from Icelandic Ultra Algae
Produced 100% clean & sustainably
Frequently asked questions
What is the "Tested By You" Program Kit by ORLO Nutrition?

The "Tested By You" Program Kit is a unique opportunity for you to experience the effectiveness of ORLO's active omega-3 and DHA products firsthand. It includes BEFORE and AFTER pinch tests conducted by a 3rd party, OmegaQuant Lab™.
What does the kit include?

The kit contains everything you need to assess the impact of daily supplementation with Active Omega-3s, including an easy-to-use omega-3 index self-testing kit. You will receive two kits over a six-month commitment period.
Are there any additional benefits for subscribers?

Currently, the program offers FREE SHIPPING for orders over $100 within the USA. International shipping options may vary, so please check our shipping policies for more information.
How does the omega-3 index self-testing kit work?

The self-testing kit allows you to measure your omega-3 index, which helps you track your progress and demonstrate the benefits of using Active Omega-3s. It's a simple and convenient way to chart your health journey.
What is the commitment period for the "Tested By You" Program Kit?

The commitment period for this program is six months, during which you will receive two measurement points: one at the beginning and another after four months. This allows you to observe and quantify the improvements in your health.
Can I choose shipment dates for subscriptions?

Yes, adjust your shipment date as needed. We aim to make subscribing painless. Reach out with questions or concerns.
Can my data be used for marketing purposes?

Anonymized participant data from the "Tested By You" program may be used in ORLO Nutrition's educational marketing efforts. Your privacy and data security are important to us.
Anything we haven't covered?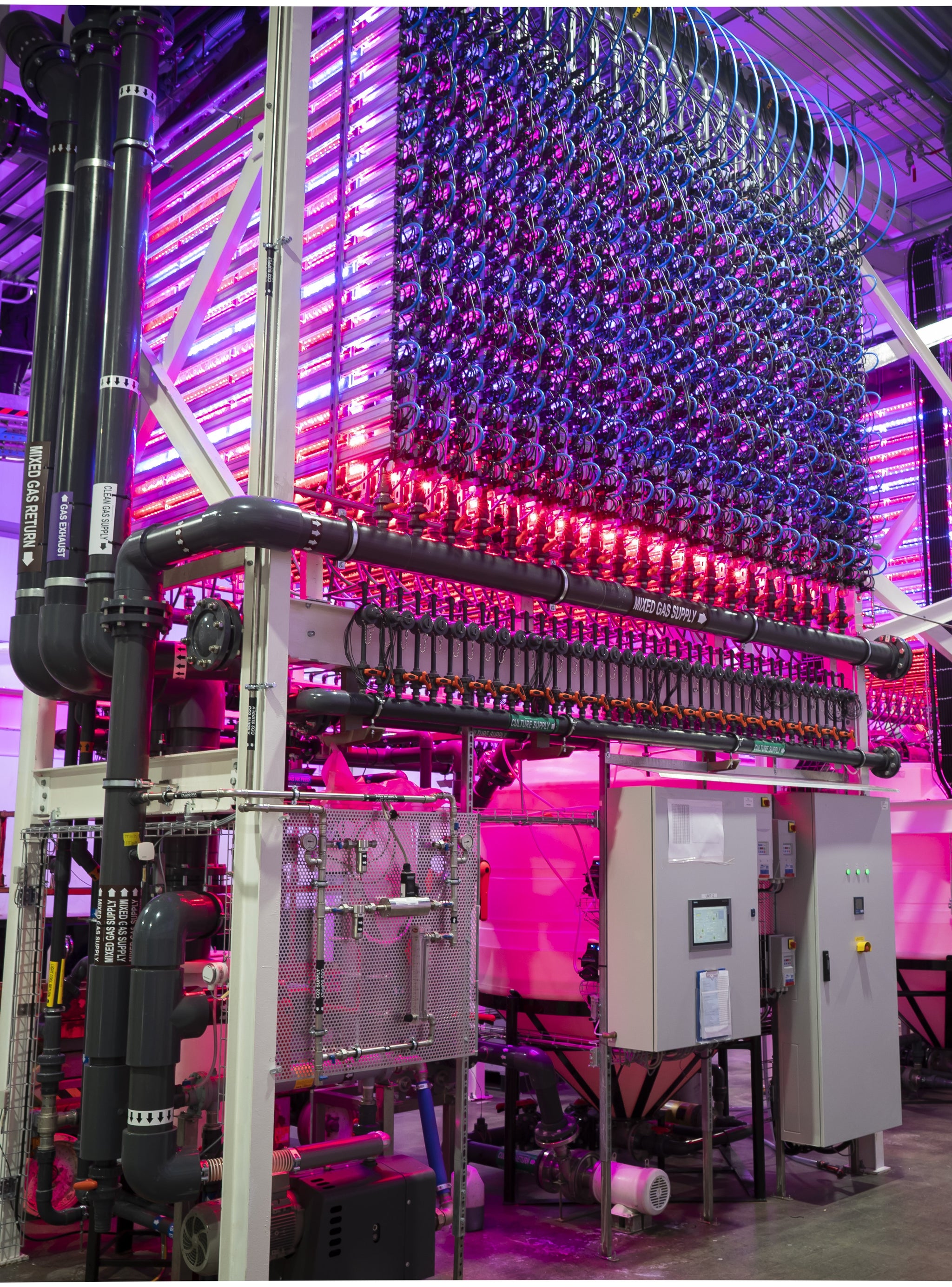 deliver the highest impact nutrition for people, and (literally) support the planet.
ORLO puts traditional agriculture in the past, with advanced patented biotecture process that is also carbon neutral, all part of the 100% sustainable food tech we invented. We use 99% less water & land to produce the most bioactive macronutrients like full spectrum proteins and omega-3s, and micronutrients like vitamin B12.